The situation in Libya is increasingly fraught and pits two major powers against each other: Russia and Turkey. Other nations have also taken sides.
It was announced today by the United States Africa Command that they had evidence that Russia has flown jet fighters into Libya. They are up against 8,000 – 10,000 Turkish forces, who are backing rival sides in the Libyan conflict.
As the Guardian (below) points out: "West Libya's Government of National Accord (GNA) is backed by the UN, but its main allies are Turkey, Qatar and to some extent Italy. It holds little power on the ground, and some distrust its Islamist politics."
On the other side of this emerging confrontation is Gen Khalifa Haftar.
As the Guardian points out, he "…was appointed by the rival parliament in east Libya to head the self-styled Libyan National Army (LNA). Haftar's supporters believe he is a bulwark against extremism, but detractors see him as a would-be military dictator in Gaddafi's mould. He is supported by the UAE and Russian paramilitary organisation the Wagner group, along with Egypt, Saudi Arabia, Jordan, France and a ragtag collection of Sudanese and more recently Syrian militias."
This is a dangerous situation, which would have far more international attention, if the Coronavirus pandemic was not upon us.
Martin
---
Source: US Africom
U.S. Africa Command assesses that Moscow recently deployed military fighter aircraft to Libya in order to support Russian state-sponsored private military contractors (PMCs) operating on the ground there.
Russian military aircraft are likely to provide close air support and offensive fires for the Wagner Group PMC that is supporting the Libyan National Army's (LNA) fight against the internationally recognized Government of National Accord. The Russian fighter aircraft arrived in Libya, from an airbase in Russia, after transiting Syria where it is assessed they were repainted to camouflage their Russian origin.
"Russia is clearly trying to tip the scales in its favor in Libya. Just like I saw them doing in Syria, they are expanding their military footprint in Africa using government-supported mercenary groups like Wagner," said U.S. Army Gen. Stephen Townsend, commander, U.S. Africa Command. "For too long, Russia has denied the full extent of its involvement in the ongoing Libyan conflict. Well, there is no denying it now. We watched as Russia flew fourth generation jet fighters to Libya — every step of the way. Neither the LNA nor private military companies can arm, operate and sustain these fighters without state support — support they are getting from Russia."
Russia has employed state-sponsored Wagner in Libya to conceal its direct role and to afford Moscow plausible deniability of its malign actions. U.S. Africa Command assesses Moscow's military actions have prolonged the Libyan conflict and exacerbated casualties and human suffering on both sides.
"The world heard Mr. Haftar declare he was about to unleash a new air campaign. That will be Russian mercenary pilots flying Russian-supplied aircraft to bomb Libyans," Townsend said.
U.S. Africa Command assesses that Russia is not interested in what is best for the Libyan people but are working to achieve their own strategic goals instead.
"If Russia seizes basing on Libya's coast, the next logical step is they deploy permanent long-range anti-access area denial (A2AD) capabilities," said U.S. Air Force Gen. Jeff Harrigian, commander, U.S. Air Forces in Europe-Air Forces Africa. "If that day comes, it will create very real security concerns on Europe's southern flank."
Russia's destabilizing actions in Libya will also exacerbate the regional instability that has driven the migration crisis affecting Europe.
---
Source: Guardian
Idlib to Tripoli: Turkey moves to dominate eastern Mediterranean
Syrian mercenaries are just part of Ankara's plan for supremacy in the eastern Mediterranean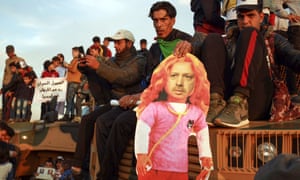 The first time Wael Amr got on a plane was not quite what he had hoped for. Air travel in films led him to imagine how glamorous it would be to leave Syria's rebel-held Idlib province for an exotic holiday abroad.
Instead, in March the 22-year-old signed up with Turkish military recruiters and travelled over the border to Turkey. From there he took his first ever plane journey, to Libya, where he is now fighting on a dangerous frontline in someone else's war.
"They told me I would be in the support line or medical units working for good money, but the fighting here is worse than anything I experienced in Syria. It's all close combat in narrow streets," he said.
"Some Syrians are here for money, some say they support the Libyans against tyranny. But personally I don't really know why Turkey asked the Syrian opposition to fight in Libya. I didn't know anything about this country except the revolution against [Col Muammar] Gaddafi."
Amr, along with an estimated 8,000 to 10,000 of his countrymen, is currently 2,000km (1,200m) away from home working as a mercenary in Libya because of Mavi Vatan, or Blue Homeland: Turkey's ambitious plan for geopolitical supremacy in the eastern Mediterranean.
The 14-year-old project encompasses the longstanding fight with Greece over divided Cyprus and competition with Athens and maritime neighbours Egypt, Israel and Lebanon over oil and gas drilling rights. It has reached a zenith, however, in Libya's civil war, which has steadily drawn in several foreign powers even before it began in 2014.
The proxy wars in Syria and Yemen are also still raging. But in a world where American power is on the wane, Libya has emerged as the most promising playground for regional players seeking to carve out a stake from the ruins of the Arab spring. Political Islamists and neo-Ottomans are lined up on one side, against Arab nationalists and monarchs on the other, in a combustible mix of oil, mercenaries, ideology and naked geopolitical ambition.
As long-suffering Libyan civilians well know, a UN arms embargo on the country may as well not exist: armed groups with fickle loyalties and a penchant for kidnapping ransoms have proliferated over the past nine years.
The GNA is fighting against Gen Khalifa Haftar, who was appointed by the rival parliament in east Libya to head the self-styled Libyan National Army (LNA). Haftar's supporters believe he is a bulwark against extremism, but detractors see him as a would-be military dictator in Gaddafi's mould. He is supported by the UAE and Russian paramilitary organisation the Wagner group, along with Egypt, Saudi Arabia, Jordan, France and a ragtag collection of Sudanese and more recently Syrian militias.
In April last year the renegade general launched a new assault on the GNA, triggering some of the most significant fighting on Libyan soil since the Nato-backed battle to overthrow Gaddafi in 2011.
By the end of 2019, realising that LNA forces were on the verge of seizing the capital Tripoli, the Turkish president, Recep Tayyip Erdoğan, took the bold step of declaring overt support for the GNA, signing new agreements on both maritime boundaries and military cooperation which neatly countered Turkey's strategic enemies across the Mediterranean.
"The GNA was short on military and diplomatic support, but it's definitely not short of oil money yet," said Anas El Gomati, the director of the Tripoli-based Sadeq Institute thinktank. "This was a smart move on Ankara's part: by propping up Tripoli, Turkey is looking to recoup billions of dollars in unfinished construction contracts signed under Gaddafi, and get in first when it comes to the reconstruction needed after this bout of fighting."
Despite the fact that Ankara is increasingly isolated on the world stage and intervention in Libya is deeply unpopular with Turkish voters, Erdoğan's latest adventurism appears to be paying off.
State-of-the-art Turkish reconnaissance and drone technology, as well as Turkish troops and Syrian fighters on the ground, have steadily reversed the LNA's gains since January, culminating last week in the seizure of a key airbase and the town of al-Asabaa from Haftar's forces. The general has since announced a partial withdrawal from Tripoli's front lines.
The maritime part of the agreement infuriated other Mediterranean countries, who pointed out the new Libyan-Turkish zone cut through Greek waters. The European Union threatened further sanctions over existing Turkish drilling operations off the coast of Cyprus.
But even if the deal is thrown out by international courts, the pending legal battles have for now delayed exploration projects by Ankara's rivals – most significantly a new joint effort by Greece, Cyprus and Israel to build a gas pipeline that would bypass Turkey. Rumours currently abound in diplomatic circles that Turkey and Israel are seeking to restore full diplomatic ties.
"The push for control over any oil and gas in the Mediterranean basin is not really an economic project at all: gas supply is not a pressing need or financial imperative for Turkey yet. This is really about the projection of political power," said Mustafa Karahan, the director of consultancy Dragon Energy.
"Spending on Mediterranean energy projects is a bit like national defence budgets. It's like an arms race where you have to act before your rival does."
Turkey may yet find its Mavi Vatan project comes unstuck if it is dragged deeper into Libya's fighting. It is already battling both the regime and Kurdish militias in Syria and countering the UAE's influence in Somalia and across the Horn of Africa.
While the UAE and Russia are displeased with Haftar's performance, there is too much at stake for them to abandon the LNA now.
Turkish and LNA officials traded threats last week after Haftar's air force chief said Turkish positions would be targeted in a new aerial campaign.
Russian jets have just touched down in eastern Libya which are more than capable of taking out Turkish air defence systems. For both Ankara and Moscow, the memory of unprecedented direct Turkish-Russian clashes in Syria earlier this year is still fresh.
Turkey's now overt war in Libya is a huge gamble, but during 17 years at the helm, Erdoğan has proved he's not afraid to take risks. The waters of the Mediterranean are getting warmer.
Additional reporting by Hussein Akkoush and Gökçe Saraçoğlu