These are two articles I have written for African Arguments – the Royal African Society blog. There is a third to come on the outcome of the election.
Martin
---
"They were useless": What about South Africa's forgotten rural voters?
Attention ahead of the 8 May elections has focused on major cities, but what are voters saying in overlooked rural areas where a third of voters live?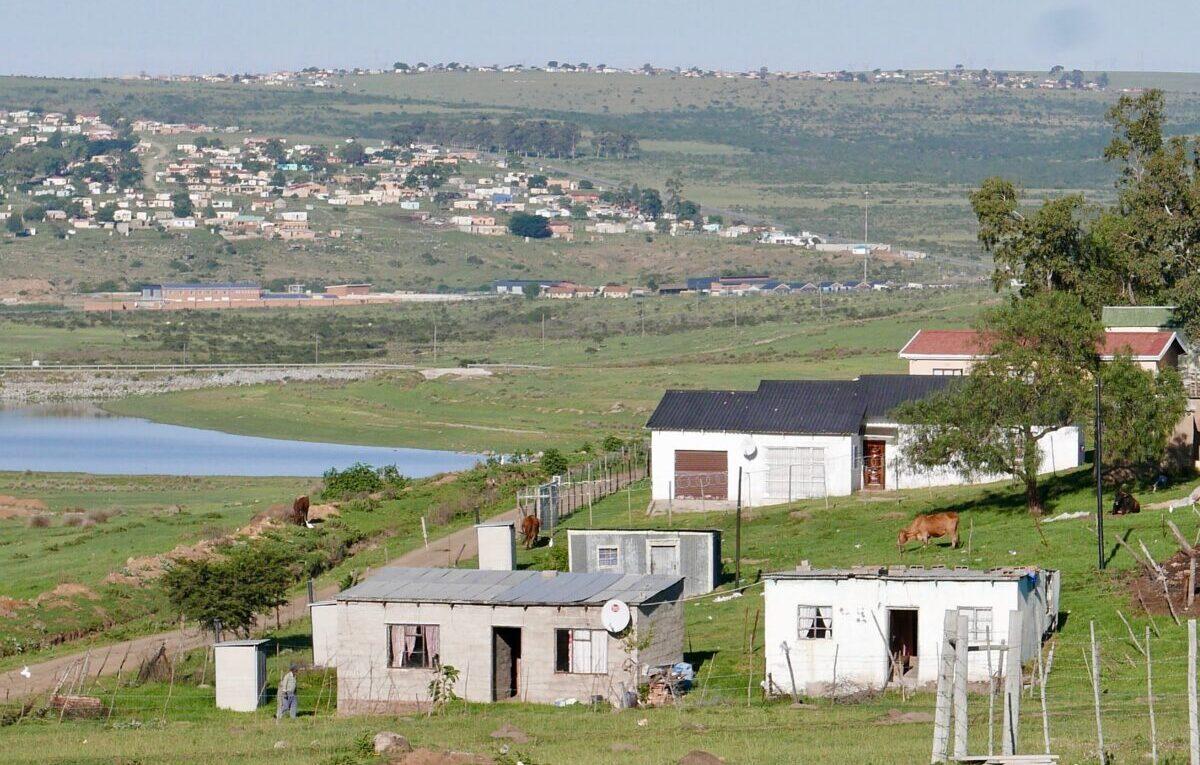 This is the first instalment of a three-part series around South Africa's 8 May general elections.
Asanda Qosha was walking briskly along a dirt road in KwaTshatshu, on the outskirts of King Williams Town, in the Eastern Cape when I met him. Smartly dressed, he was making his way among the scattered houses, set in the green, rolling hillsides.
Qosha was on his way to the town of East London to pay his taxes. A confident, well-built man, he supports the African National Congress (ANC), the party that has been in power in South Africa since 1994. Yet, like so many South Africans, he has no job. Unemployment officially stands at around 27% and is among the highest in the world.
"I have had no official job since 2011, so I started up my own construction company," he explains. Qosha has relied on small contracts from the government ever since. "It's the only way," he says, "the private sector just goes with the big companies." Now, he is on his way to pay R5,000 ($346) he owes in back taxes. It's hard, but it needs to be done if he's to keep getting government contracts.
So what does Qosha think of the government? "The ANC is the only vehicle for people to get out of poverty," he insists. At the same time, however, he has no illusions about the party. "The ANC is very corrupt. It really bothers me. They are robbing our poor: that's why there's no housing, roads or clinics."
But Qosha has even less time for the major opposition parties. In his view, the Democratic Alliance (DA), the official opposition, has nothing to offer him. "They concentrate on the [white] suburbs and they don't speak out when whites are involved in corruption," he says.
He dismisses the other major party, the Economic Freedom Fighters (EFF) of the radical Julius Malema, too. "They will scare off the investors with their demands for land nationalisation," he believes. With that, he spots a passing car, waves it down and hops in, giving me a broad grin as he disappears down the road in a cloud of dust.
Qosha is no doubt sincere, but in three days of travelling across the towns and villages of the Eastern Cape, he was the only ANC supporter I came across. This region has a reputation for having some of the worst services in the country and is plagued by corruption. Political leaders pay fleeting visits to the rural areas, but their motorcades are soon gone and many feel forgotten by those who rule them.
I met plenty people who were not going to vote, and others who might grudgingly support the EFF or DA. But here, in what was once the heartland of the ANC, there is little enthusiasm left for the party that led the country out of apartheid. Leaders like Nelson Mandela and Thabo Mbeki came from this region, but the years of corruption associated with President Jacob Zuma have shaken even loyalists to the core. The current president, Cyril Ramphosa, has yet to make his mark.
Some lost faith in the ruling ANC a long time ago.
The EFF has a large office on the high street of King Williams Town. Its windows are plastered with slogans, and their hallway is full of posters proclaiming "Julius Malema, Son of the soil". This reflects his promise to take state control of all land.
They send me to see the mother of one of their councillors, Maseer Lindiwe Kaba. Mrs Kaba is a dignified old lady, sitting erect in her armchair, watching an Indian soap opera on her large television. She tells me from the start that she won't say how she will vote in Wednesday's elections.
So who did she vote for in 1994, the first truly democratic elections in South Africa? "I voted ANC. But when he came from jail Nelson Mandela was too old already. After that there was Mbeki and the rest. They were useless!" she says, wagging her finger for emphasis.
"Now they must go to bed and go to sleep," she continues. "It would be a blessing from God [if they lost power]…I don't care if the next government is DA or EFF; I don't want the ANC."
Kaba complains that political corruption is widespread, while South Africans like her struggle to pay for food and electricity or find employment. "My daughter Pindi got a good education and she wanted more, but she can't get a job," she says. "But Mr Somebody takes millions. The ANC's good plan is to eat money!"
Before the election, the ANC arrived with trucks to deliver food parcels, but Kaba refused them. "I didn't touch it," she explains. "When they came in 2014 [the previous election], I told them they must not come to my gate again. I only have my pension – and they can't take that."
It's a heart-breaking story and one that is told across this region.
In reality, no one has a clear idea of how the election on 8 May will turn out. In 2014, the ANC won with 62.15% of the vote. None of the polls predict that it will do as well, but their figures vary wildly. They suggest that the ANC will get anywhere between 49.5% and 61%, but everything depends on the turnout.
Citing these discrepancies, Judith February, one of the country's most respected commentators, concludes: "It's therefore probably best to ignore the polls, vote on 8 May – and wait."
---
"The main thing is a job": The battle for South Africa's swing city
Control of most areas is unlikely to change following the elections, but Port Elizabeth has switched hands recently and could do again.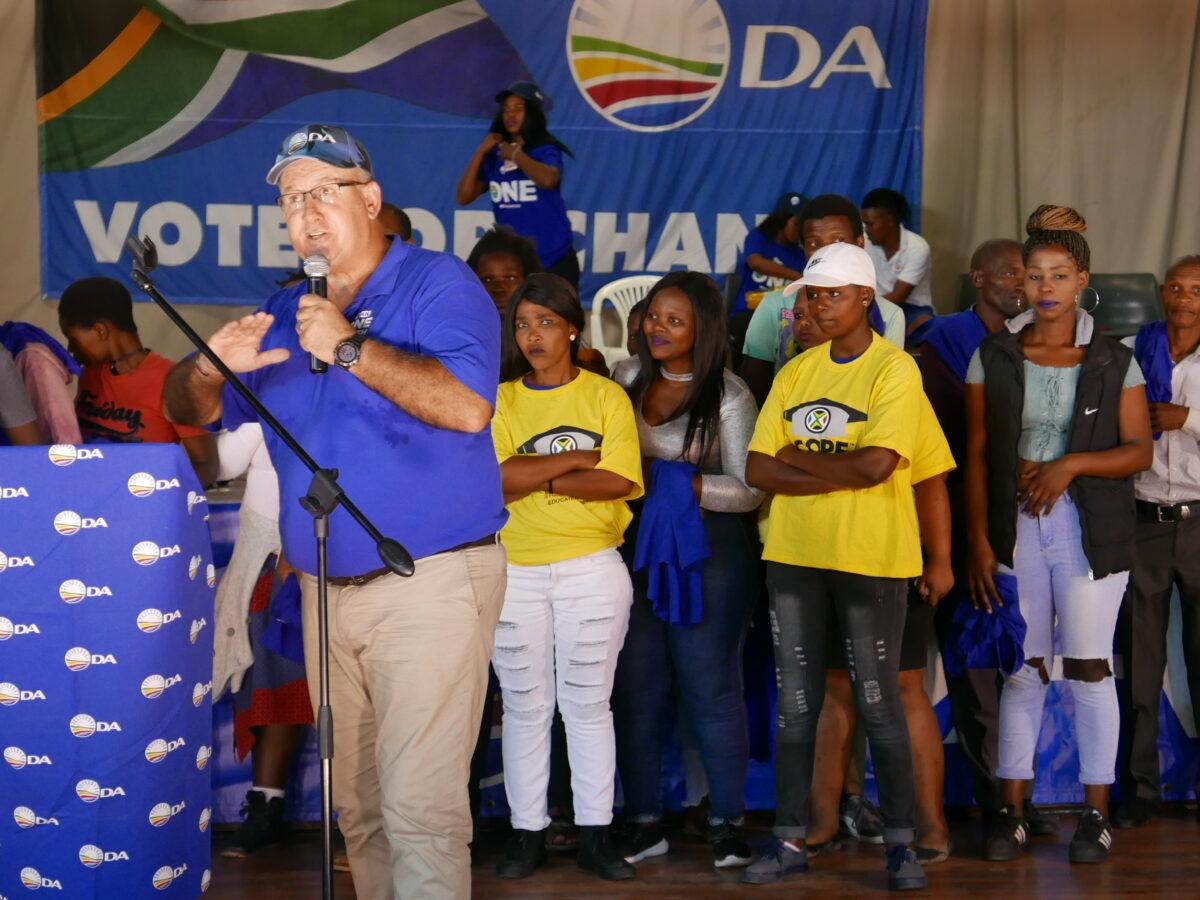 This is the second instalment of a three-part series around the South Africa elections on 8 May. Read the first on South Africa's "forgotten rural voters" here.
In the city of Port Elizabeth, in South Africa's Eastern Cape, elegant hotels and restaurants are strung out along the seafront. The beach is clean, the park alongside it well-maintained. Just to the east is the dock, set back from which lies the real reason people flock here: its factories.
Car manufacturing was established in Port Elizabeth under apartheid, with huge government incentives. The industry survives today, though it has been struggling and here, like elsewhere across South Africa, arguably the main issue on people's minds ahead of the 8 May elections is employment.
In the Zwide township, I meet with voter Nontwaza Ruselo at her home where a huge ANC mural has been painted on her wall. "They paid me R1,000 ($69) in April and again in May to put it up," she explains. It's a lot of money in this household. I ask when they paint will over it. "Oh, they didn't say," she says.
There are six women in the sitting room, chatting and preparing a meal. None of them has a job. They all live on the R1,700 ($117) a month Ruselo gets as a pension.
Tsidi Mahomana, a very articulate 44-year-old, has her matric (i.e. she graduated from high school) and other certificates, but still can't find work. "The main thing is a job," she says despairingly. She is worried that there is nothing on the horizon for her and the bills keep mounting up: R250 ($17) for funeral insurance (everyone saves to get buried) and about the same for electricity. "What have we left for food and clothes?" she asks.
No one here has a good word to say about politicians. Neither the ruling African National Congress (ANC) nor the main opposition Democratic Alliance (DA) will get a vote in this household tomorrow. When pushed, Mahomana says she could vote for the radical Economic Freedom Fighters (EFF). "They promise free education for our children. That's important," she says.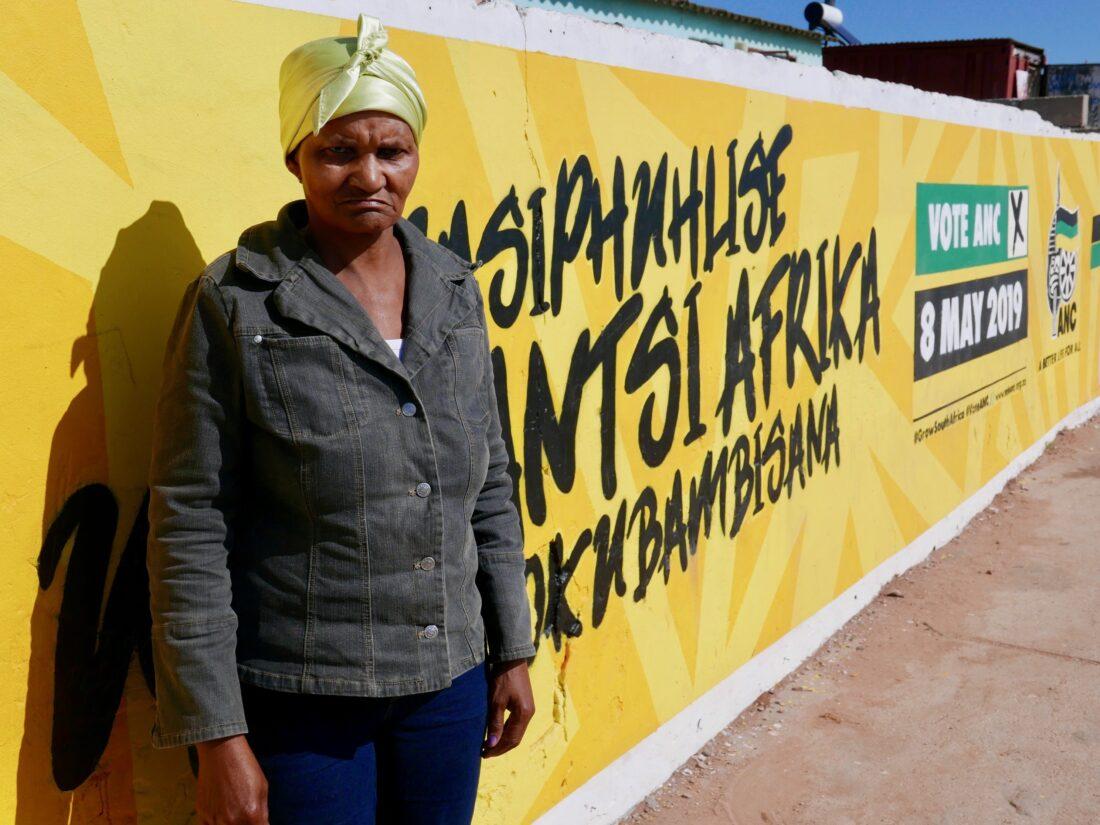 My next stop is an ANC rally. I find the stadium in which it is taking place barely half-full, but the crowd is not deterred. Flags are waved, whistles blown, and struggle songs from the past sung again with relish. There are plenty of shouts of "Viva" and "Amandla" as dignitaries are introduced to the crowd.
A singer gives a beautiful rendition of the national anthem and the crowd joins in with gusto. When she stops after singing the verses only in the African languages (Xhosa and Sotho), however, the crowd is having none of it and continues the rest of the anthem in Afrikaans and English.
Back at my hotel, I meet Athol Trollip, the jovial leader of the DA in this area. He was mayor of Port Elizabeth for two years until August 2018, when the fractious coalition he led fell apart. It's not hard to see why. The DA held 57 of the 120 seats, the ANC 50 and the EFF 6, with the remainder scattered between smaller parties. Compromises only went so far and Trollip was eventually unseated in a vote of no confidence.
That means the ANC is back in control of Port Elizabeth, a city it has battled to administer in the past. Under its previous rule, rival party factions fought over lucrative city contracts and the area developed a reputation for corruption, in-fighting and violence. In 2015, the ANC party sent in Crispian Olver, an outsider and party stalwart, to try to save the city. However, it was not long before he fled, fearing for his life. He details his experience in the best-selling 2017 book How to Steal a City, which argues that the ANC's corruption and mismanagement led to it losing to the area to the DA in the 2016 municipal elections.
As voters prepare to go to the ballot box again, the opposition party could win it back again. Trollip predicts that the DA will win 25-30% of the vote nationally, up on the 22.2% achieved in 2014 and better than what opinion polls are projecting. "[The polls] are way out," he says. "The greatest growth for the DA will be in the Eastern Cape."
One of the DA's strategies in trying to achieve this is clear. At a rally in the town of East London, Trollip belts out a critique of the government and its corruption, switching effortlessly between English,  Xhosa and Afrikaans. The rally isn't as large as the ANC's, but considerably younger and almost totally black African.
This theme of ANC corruption is hammered home at every opposition meeting. This certainly has resonance in reference to former President Jacob Zuma, but does it fly less well since Cyril Ramaphosa, who is regarded as having cleaner hands, took over in February 2018? Trollip doesn't think so. "That's The Economist's view," he says dismissively. "Don't forget that Ramaphosa has been in post for the last 18 months. He promised 3% growth. What did we get? 1-1.2%."
It is striking, though, that business is backing the ANC. The Economist has endorsed President Ramaphosa as has Goldman Sachs. "We need to get out of this election a strong mandate for structural reforms," Colin Coleman, head of sub-Saharan Africa at Goldman Sachs Group, said in an interview with Bloomberg. He suggests that support of 60% or more would give Ramaphosa the "political space to implement his modernisation agenda, including trying to effectively get the state-owned enterprises and a raft of economic reforms firmly in place".
It is not impossible that this will happen, although the final poll suggests the ANC is likely to get just 53%. It is remarkable just how unengaged many South African voters have become. Anyone who remembers the vast queues that snaked around polling stations back in 1994 – the country's first truly democratic elections – are likely to be disappointed. Ten million South Africans who are eligible to vote simply did not register, including 82.5% of potential first-time voters.
Low turnout may particularly weaken the prospects of radical alternative parties such as the EFF of Julius Malema. While there are a host of parties for voters to choose from, Wednesday's poll is likely to remain a battle between the ruling ANC and the main opposition DA, with other parties fighting to win the handful of remaining seats.