Sources: VOA below – this is from the  BBC
Mocimboa da Praia: Key Mozambique port 'seized by IS'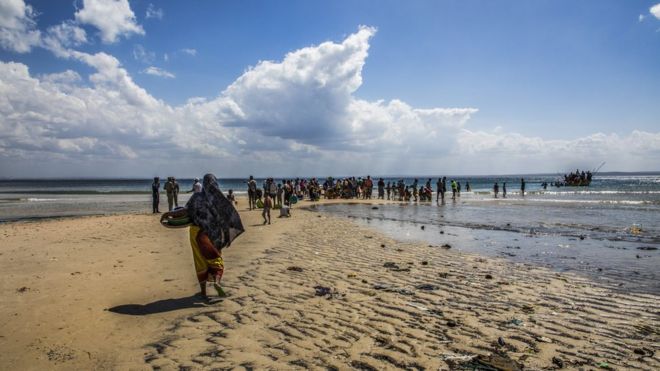 Militants linked to the Islamic State group have seized a heavily-defended port in Mozambique after days of fighting, according to reports.
Local media say government forces that were in the far northern town of Mocimboa da Praia fled, many by boat, after Islamists stormed the port.
The town is close to the site of natural gas projects worth $60m (£46m).
In recent months militants have taken a number of northern towns, displacing tens of thousands of people.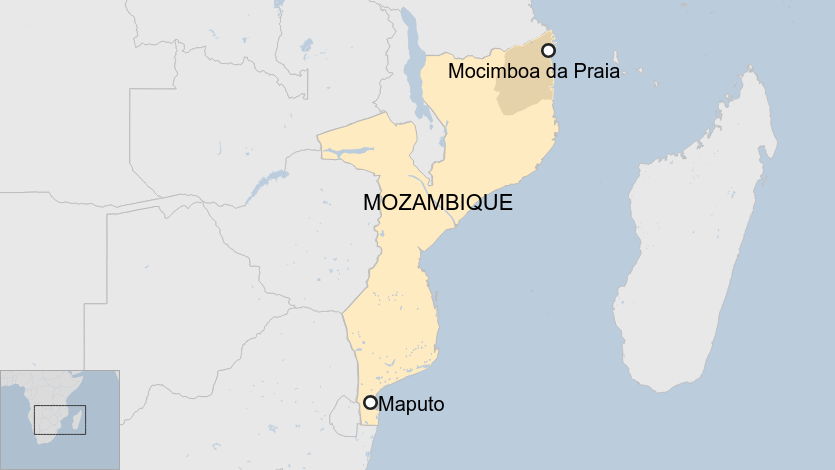 This was also one of several attacks on Mocimboa da Praia this year, as Islamic State-linked militants have stepped up attacks in the region.
The port is used for cargo deliveries to the oil projects about 60km (37 miles) away, which are being developed by oil giants including Total.

Heavy blow for Mozambique

This is a heavy blow for Mozambique's security forces. Low on ammunition, and facing a large, well-coordinated rebel attack, government troops are reported to have abandoned the port city of Mocimboa da Praia, with many soldiers fleeing by boat.
The question now is whether the rebels will – as they have hinted – try to hold on to this strategic city. That would mark a new escalation in a shadowy conflict that represents a major threat to Mozambique and to international plans to develop vast off-shore gas fields.
The rebels have formal ties to IS, but are also feeding on local grievances in a long-neglected corner of the country.
Mozambique's neighbours are watching with growing anxiety. A private security contractor based in South Africa is supplying helicopter support to the army. But this latest attack appears to show the rebellion is still gaining in strength and sophistication.

Attacks began in 2017 in the northern province of Cabo Delgado, but escalated this year after the group responsible, Ahlu Sunnah Wa-Jama, pledged allegiance to IS.
Earlier this week IS claimed, though its own media channels, that it had taken over two military bases near Mocimboa da Praia, killed Mozambique soldiers and captured weaponry, including machine guns and rocket-propelled grenades.
Tanzania has said it is launching an offensive against the jihadists in forests on the border with Mozambique.
---
Insurgents capture port of Mocímboa da Praia and Islamic State releases images
A recent offensive by a group of insurgents culminated in the capture and occupation of the important and strategic port of Mocímboa da Praia, in the Mozambican province of Cabo Delgado, since Tuesday night, 11, several local sources reported to VOA earlier this morning. Wednesday, 12.
The insurgents came to control the infrastructure after almost five days of clashes, which started on August 5, between them and the navy force, known as Marines, who defended the port until then, but the military ran out of ammunition.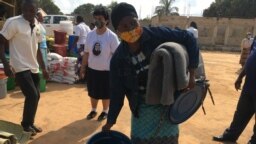 "Being alive is a miracle," says an elderly woman who survived an attack by insurgents in Cabo Delgado
The Islamic State group posted images of elements of the dead Defense and Security Forces (SDS) on its communication channels, as well as weapons and ammunition captured in two tents in Mocímboa da Praia, allegedly by the Mozambican branch.
A military source told VOA that the military of the South African private group Dyck Advisor (DAG), which provides air support to the Government in combating insurgents, tried to enter the theater of operations, but their impact was reduced due to the time of 15 minutes it took to refuel helicopters in Pemba.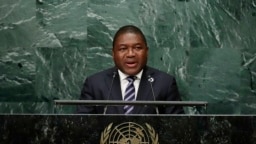 Insurgency does not threaten gas exploration in Cabo Delgado, Nyusi assures the World Bank chief
"I cannot understand why Macomia, Mueda or even Palma were not used" for the refueling of the helicopters, asked a military source who has been accompanying the operations in Cabo Delgado, and revealed that an additional aircraft arrived in Pemba on Tuesday. Allouette III Gunship with the South African crew.
Zitamar, the electronic newspaper published in Maputo, citing a military source, wrote on Tuesday night on its page that DAG also tried to supply ammunition to the Marines at the theater of operations, but the ammunition was unloaded far from the site where the fight was taking place.
The insurgents, continued the VOA source, sank one of the HV32 Interceptors boats in the port of Mocímboa da Praia with an RPG weapon.
On Friday, 7, in light combat, the insurgents repelled the advanced positions of the SDS in the villages around Mocímboa da Praia, such as Awasse, Anga and Ntotwe, many of whom fled to Mueda, the sources of VOA advanced.
In Mueda, an SDS replanning conference was held, with a military caravan left on Sunday morning for Mocímboa da Praia, but shortly before arriving at Awasse, at the crossing to Mocímboa da Praia, the military vehicle convoy was targeted ambushed by a group of insurgents.
Truck deaths and Nyusi ensures investment security
It is estimated that 55 members of the state forces were killed and another 90 injured. The bodies arrived in Pemba in trucks.
The port of Mocímboa da Praia is an important and strategic port for the north of Cabo Delgado, including for the gas mega projects underway in Palma, north of Mocímboa da Praia, which is also without power and communications for several weeks due to damage caused by the attacks, Mediafax reports this week.
However, yesterday, in a virtual meeting with World Bank President David Malpass, Mozambican President Filipe Nyusi says there is evidence that foreigners are training insurgents who terrorize Cabo Delgado province, but ensures that the exploration project natural gas in Palma is not threatened.
"The Defense and Security Forces are on the ground trying to contain the expansion of terrorist actions throughout the province of Cabo Delgado and the rest of the country," said Nyusi.