Snubbed by Sudan, Pompeo and Netanyahu scour Africa in search of support ahead of US election.
Despite months of lobbying, the US Secretary of State Mike Pompeo has failed to convince the president of Sudan's Sovereign Council to recognise Israel or support the Middle East peace plan concocted by Donald Trump's son-in-law, Jared Kushner. This has US and Israeli diplomats busy scrambling for support from other African countries.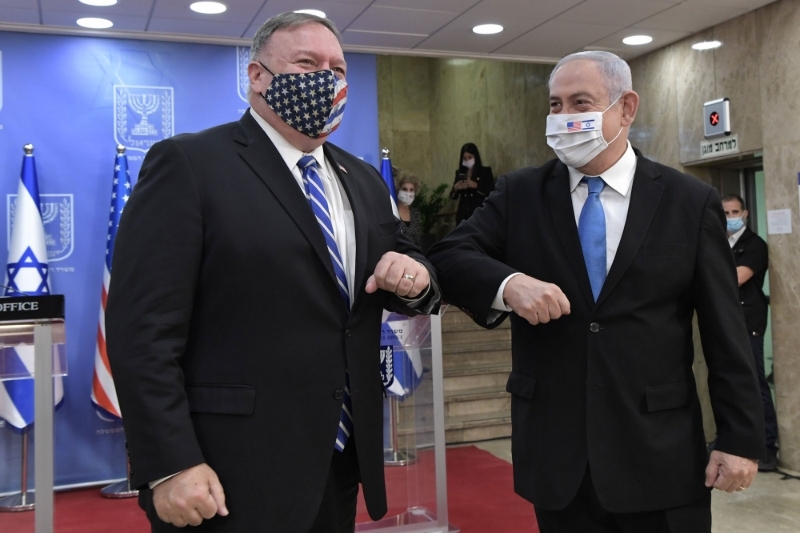 It is the diplomatic trick that has eclipsed the opening of embassies in Taiwan by nations looking to reap financial and diplomatic benefits. In an effort to garner as much support as possible for their Middle East peace plan, US President Donald Trump, his son-in-law Jared Kushner and Israeli Prime Minister Benjamin Netanyahu are searching for countries willing to recognise Israel and its new capital, Jerusalem. And time is running out: the US presidential election is three months away and if, as the polls suggest, the Democratic candidate Joe Biden wins, the Kushner initiative will be quickly forgotten and back to square one.
After securing the United Arab Emirates' recognition of Israel on 13 August, the US and Israeli diplomats sought the same from Sudan. The transitional government in Khartoum relies heavily on Emirati support and has been lobbied by Israeli envoys since its arrival in power. Alas, the US Secretary of State Mike Pompeo's visit to Khartoum on 25 August was a letdown. Pompeo failed to win round Prime Minister Abdalla Hamdok, who called on the transitional nature of his administration to explain his refusal to take sides in a diplomatic matter of this magnitude.
This resistance from Hamdok and the main figures in the coalition of parties he leads caught Washington and Tel Aviv off guard. The two countries bet everything on the military component of Sudan's Sovereign Council to get on board, wagering this would be enough to rally the rest. In February, Netanyahu met with General Abdel Fattah al-Burhan, the president of the Sudan Sovereign Council, in Uganda to lay the groundwork for the country's recognition of Israel. And less than a fortnight before the Hamdok-Pompeo meeting, General Mohamed Hamdan Dalgo, aka Hemeti, the vice-chair of the transitional government, had met with Israeli emissaries in London.
DRC takes care of diplomatic and financial worries in one fell swoop
To date, the only African leader who has taken the plunge is Congolese president Felix Tshisekedi, who, three months after Kushner presented his peace plan, announced the DRC would be opening an embassy in Tel Aviv and a liaison office in Jerusalem (Africa Intelligence, 18/03/20). This in effect put an end to the diplomatic and financial problems that the DRC had accrued with the Trump administration under President Joseph Kabila. And the move has left Tshisekedi unscathed on the domestic front: in a predominantly Christian country such as the DRC, the general public is relatively indifferent to Israeli-Palestinian relations. This is also the case for Togo and Cameroon, Israel's two main allies in Africa.
For his part, Idriss Deby got on board too early in the day to reap the full benefits of opening an embassy in Tel Aviv. The Chadian head of state renewed ties with Israel in January 2019, a year before Kushner's peace plan was presented. He has now found himself under renewed pressure to announce his support for the initiative and make its most controversial component, namely the appointment of Jerusalem as the capital of the Hebrew state, more pliable. He has yet to make any commitment. Deby's spymaster General Ahmed Kogri, the head of the national security agency, the ANS, likes to present himself when talking to overseas diplomats as the United States and Israel's best friend, as detailed by our sister publication Intelligence Online on 22/07/20. This diplomatic posturing is intended to make up for his relative isolation from Chad's internal affairs, which are overseen by the deputy head of the ANS.
Mauritania refuses to budge
Further to the west, Washington and Israel are still hoping for a turnaround from Mauritania, which had an embassy in Tel Aviv for many years before severing all relations in 2009. Just as the UAE has been able to pressure Sudan, Saudi Arabia, which has shown support for the Kushner peace plan but refuses to recognise Israel, strongly urged President Mohamed Ould Ghazouani to reopen Mauritania's representation in the Hebrew state (Africa Intelligence, 13/05/20). However, these efforts were in vain. As an Islamic state, Mauritania feels it has too much reputation to lose and not enough to gain if it were to follow Saudi Arabia's lead. Its relations with Washington remain strong: in February the country hosted the annual US military exercise Flintlock (Africa Intelligence, 18/12/19).
The Trump administration's latest target has been Morocco. Rabat has been historically well disposed towards the Hebrew state but does not have an embassy there. Moroccan-born Israelis are one of the main groups in the country and the kingdom is home to the largest Jewish community of the Maghreb region. King Mohammed VI, like his father Hassan II before him, chairs the Al-Quds Committee of the Organisation of Islamic Cooperation, which ensures the preservation of Jerusalem's Arab-Muslim identity: getting him to change track would be a decisive victory for Israel. To tip Rabat in his favour, Kushner was willing to throw in the recognition of Western Sahara as Moroccan territory. Yet Rabat sees Kushner's offer, which he has repeated several times in recent months, as mere smoke and mirrors. The Western Sahara issue is being overseen by the United Nations and while the US does have a say in the matter it cannot resolve the conflict on its own. Not being able to call all the shots has not stopped a good number of self-appointed "shadow" diplomats from putting forward proposals, some more fanciful or self-serving than others. The latest of these was presented by the French-Moroccan businessman Yariv Elbaz, who has a very small and distant connection to Kushner: Trump's son-in-law lives in a house in Washington D.C. that was previously occupied by a close friend of Elbaz, the Beninese national Maixent Accrombessi (Africa Intelligence, 29/06/20).