This is something that has been on the cards for some time.
It is the latest attempt to shore up Europe's 'wall' against Africa, which Leonard Vincent and I wrote about earlier (see below).
Martin
---
Libya may allow EU ships to pursue people-smugglers in its waters
UN-backed PM says foreign ships could be permitted to operate in Libyan waters alongside national military coastguard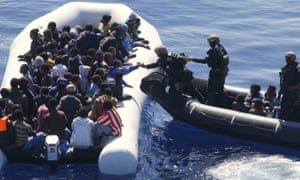 Libya's UN-backed prime minister, Fayez al-Serraj, has said Nato or EU ships could be permitted to operate in Libyan waters alongside the national military coastguard to slow the flow of people-smuggling across the Mediterranean.
The move came as a report claimed elements of the Libyan coastguard were complicit in the smuggling and said returning anyone caught on boats to coastal detention centres was risky since conditions there were horrendous.
Serraj's comments after talks at Nato on Wednesday will be a boost to EU plans to move its anti-smuggling mission Operation Sophia into Libyan waters to help prevent migrants from reaching Europe. The EU is due to discuss a comprehensive plan for Libya at a special heads of state summit on Friday.
"If there is something to be carried out jointly between the Libyan navy and any other party interested in extending a hand to the Libyan navy, that would be possible," Serraj said.
"Of course, we have to modernise our navy flotilla and enhance its capacities. Nato or any other friendly nation on a bilateral basis could extend a hand in this."
Smugglers' boats currently can only be turned back to Libya if they are stopped inside Libyan waters, but both Nato and the EU need Libyan government consent to operate inside its sovereign waters. This year tens of thousands of migrants will face the risk of drowning while the smugglers' networks benefit from the political chaos in Libya.
Serraj, struggling to gain authority inside Libya, is under pressure not to be seen to be succumbing excessively to outsiders.
On Wednesday Italy pledged €200m (£170m) in funds to several African countries as part of its drive to reduce migration at source. The foreign minister, Angelino Alfano, said the fund – aimed at Niger, Libya and Tunisia – would help bolster the "fight against human trafficking and illegal migration".
He said Europe was not trying to build a wall but helping countries to reduce the incentive to migrate.
A report by the Clingendael Institute, a Dutch thinktank, drawing on first-hand research, said migrants intercepted or rescued at sea by the Libyan coastguard were sent to detention centres "where they often spend months languishing with no legal recourse, subject to the whims of their jailers".
It said some smugglers tortured migrants to secure the release of more money from their families, or forced them to work in order to continue their journey. "Moreover, migrants are reportedly sold to criminal groups if they cannot pay for their voyage across the Mediterranean: for €15,000 they were sold to groups, mostly Egyptians, who are involved in removing and selling organs. Finally, based on self-reporting by migrants, up to 40% of migrants are forced on to boats."
The report added: "Particularly in the northwestern part of Libya, migration is accompanied with absurdly high levels of crime and violence, and migrants are subject to the whims of the group that controls the area they are in. The line between smuggling and trafficking runs thin here, as cases of kidnapping, torture, sexual violence and killings are widespread, and the situation in and around detention centres for immigration is horrific."
---
Martin Plaut and Leonard Vincent
It may not be a physical barrier comparable to Donald Trump's wall to prevent Mexicans from reaching the USA, but it is nearly in place.
Europe is close to sealing the routes refugees and migrants take across the Mediterranean.
Consider the facts. These are the routes into southern Europe. (Map: Frontex Risk Analysis, Q2 2016)
The graphic produced by the EU's Frontier Agency is clear: the major route that Africans are taking is via Libya.
The map below, from the same source, underlines the point.
Two routes that Africans have used in the past have almost been sealed. There is next to no transit by sea from West Africa through the Canary Islands and only a limited number arriving in Spain.
The route through the Sinai and Israel has been closed.
The brutal treatment of Eritreans and Sudanese in the Sinai by mafia-style Bedouin families, who extracted ransoms with torture and rape, was certainly a deterrent. So too has been the increasing propensity of Egypt to deport Eritreans to their home country, despite the risks that they will be jailed and abused when they are returned. But this route was sealed in December 2013 when the Israeli authorities built an almost impregnable fence, blocking entry via the Sinai.
This has left Libya – and to a lesser extent Egypt – as the only viable routes for Africans to use. Both are becoming more difficult. Although the International Organisation for Migration calculates that roughly 17 men, women and children perishing every day making the crossing, or nearly one every hour, they have not been deterred.
Libya is critical to the success of the EU's strategy, as a recent European assessment explained:  "Libya is of pivotal importance as the primary point of departure for the Central Mediterranean route."
Libya: the final brick in the 'wall'
The European Union has adopted new tactics to try to seal the central Mediterranean route.
The countries keenest to push this for this to take place are Germany and Italy, which took the bulk of the refugees that arrived in recent years. Germany received nearly 1.2 million asylum seekers over the past two years, while Italy received 335,000 arrivals over the course of 2015 and 2016.
Earlier this month Italy's Interior Minister Marco Minniti was dispatched to Tripoli to broker an agreement on fighting irregular migration through the country with Fayez al-Sarraj, head of the UN-backed Government of National Accord.
Minniti and al-Sarraj  agreed to reinforce cooperation on security, the fight against terrorism and human trafficking.
"There is a new impulse here — we are moving as pioneers," Mario Giro, Italy's deputy foreign minister, told the Financial Times. "But there is a lot of work to do, because Libya still doesn't yet have the capacity to manage the flows, and the country is still divided."
The deal has, apparently, hit a snag. The Libyan government is resisting Italy's proposals, although their detailed objections have not been revealed.
Germany's aid threat
While Italy's attempting to strike a deal with Libya, Germany is issuing threats.
With Chancellor Angela Merkel facing elections in 2017 and keen to show she is no longer a 'soft touch' for refugees, a much harder line is now being taken with anyone seeking asylum in Germany.
Germany deported 25,000 migrants in 2016 and another 55,000 were persuaded to return home voluntarily.
German Interior Minister Thomas de Maizière is pushing a plan that would make it easier to detain rejected asylum seekers considered a potential security threat, and to deport them from "repatriation centres" at airports.
Germany is underling its determination to cut numbers by threatening to end development aid to countries that refuse to take back rejected asylum seekers. "Those who do not cooperate sufficiently cannot hope to benefit from our development aid," Vice Chancellor Sigmar Gabriel told Der Spiegel.
Europe and Africa
The Italian proposals are very much in line with agreements the EU reached with African leaders during their summit in Malta, in late 2015.
The two sides signed a deal to halt the flight of refugees and migrants.
Europe offered training to "law enforcement and judicial authorities" in new methods of investigation and "assisting in setting up specialised anti-trafficking and smuggling police units". The European police forces of Europol and the EU's border force (Frontex) will assist African security police in countering the "production of forged and fraudulent documents".
This meant co-operating with dictatorial regimes, like Sudan, which is ruled by Omar al-Bashir, who is wanted for war crimes and crimes against humanity by the International Criminal Court.
But President al-Bashir is now seen as a western friend, despite his notorious record. One of President Obama's last acts in office has been to lift sanctions against Sudan.
What is clear from the Italian and German initiatives is that Europe is determined to do all it can to reduce, and finally halt, the flow of Africans through Libya – the only viable route left for most African migrants and refugees to reach Europe.
A legal route into Europe
While the informal and illegal routes are being sealed a tiny legitimate route is being opened. The Catholic Church, working through its aid arm, Caritas and the Community of Sant Egidio, has managed to negotiate an agreement with Italy for 500 refugees from the Horn of Africa to be allowed to come to Italy.
Oliviero Fortis, Head of the Immigration Department of Caritas, said: "We must, as far as possible, promote legal and secure entry solutions. Being able to enter Italy with a visa is an operation that works perfectly. Except at the political level, and that's the big problem! It is the Italian Church that will bear the costs, in the hope that this initiative will be a model for the acceptance of refugees that can be monitored and replicated by European institutions."
EU and Eritrea
Eritrea – among the most brutal dictatorships in Africa – remains one of the key sources of migration and refugees. Although Eritrea has fewer citizens than most other African states more Eritreans arrived illegally in Europe in early 2016 than from any other African country.
This comes at a time of unprecedented pressure on Eritrean refugees, as they make their way through Sudan and into Libya.  The Sudanese government's 'Rapid Support Force' – an autonomous special force headed by a notorious Janjaweed commander – has been used to round up refugees, to deport them back to Eritrea.
The EU is floundering around attempting to halt this exodus. Recently it offered €200 million in aid to Eritrean 'projects', but has few means of monitoring just how it will be spent. Eritrea is a one-party state, in which the ruling PFDJ has never held a congress.
The country is ruled by a narrow clique surrounding President Isaias Afwerki, which uses National Service conscripts on the farms and factories that they control.
While the EU has outlined a range of programmes it is willing to support, given the monopoly power exercised by the sole party and army commanders over the entire Eritrean society, it has next to no means of ensuring that the funds do not ultimately end up reinforcing this autocracy.
Conclusion
If the EU initiatives fail (and it is highly likely that they will) they will only serve to strengthen the Eritrean and Sudanese regimes. At the same time attempting to block Libya and Egypt as the only remaining means of reaching European soil is likely to force Eritrean and Sudanese citizens to take even longer and more dangerous journeys to reach safety.
The EU is working hard to strengthen its ties with Libya so that it can go into Libyan waters and destroy the boats and other infrastructure used to smuggle Africans into Europe.
In a report to EU's 28 member states, Rear Admiral Enrico Credendino, who heads the European Union Naval Force Mediterranean (EU NAVFOR MED) explained that it is vital that European navies operated inside Libyan territorial waters to halt trafficking. But this cannot happen at present. "It is clear that the legal and political pre-conditions have not been met," said Admiral Credendino, indicating that greater cooperation with the Libyan authorities was needed.
The tiny legal route offered by Italy is unlikely to meet the needs of Africans desperate to seek refuge in Europe. Instead, the increasing restrictions are likely to lead to increased deaths and despair as destitute African youths take ever-more risky routes out of Africa – and further destabilisation of an already fragile part of the world.
This is the likely outcome of Europe's African 'wall'.
It will neither end the flow of refugees fleeing suffocating repression, nor will it seal the borders of Europe. Thousands of people fleeing for their lives will be forced away from Europe (and away from European public opinion). Instead it will place the burden of this crisis on brutal and often racist regimes along the fugitives' routes.
And all this for what?
Refusing to accommodate, for a reasonable period of time, a few thousand young women and men who are only too eager to learn, live and contribute to European societies, until eventually circumstances change and they can return home with gratitude towards their European hosts.
It's not only a shame; it is a political mistake of historic proportions.